Also new with EASU is the ability to setup scheduled recurring orders and purchases in Easify.
With EASU installed on your network, you can easily schedule any existing order or purchase to be automatically raised at the date, time and frequency of your choosing.

Orders and purchases can be scheduled to repeat at pretty much any frequency. So if you wanted an order to be repeated, say, 12 times on the first Monday of every other month, or you want a purchase to be automatically raised once a quarter on the first day of the month from now onwards, EASU allows Easify to do all of these and more.
Receive email notifications when an order or purchase has been auto-created...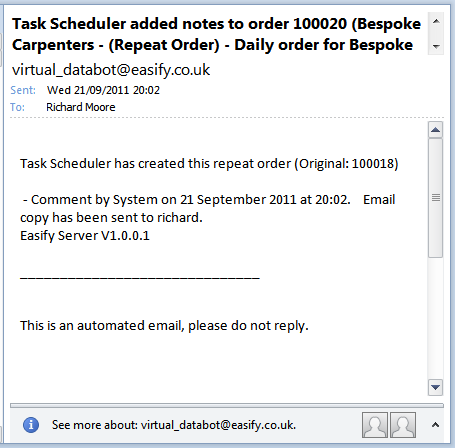 If you have configured email addresses for your Easify users, assigned users will be emailed whenever a scheduled task occurs. So not only can Easify automatically create your orders and purchases, it can tell you that it's created them too.
The new task scheduling features of EASU also let you create backup schedules for your Easify companies, so you need never forget to backup your data again.