We are pleased to announce that Easify V4.28 has been released.
This is the first update for Easify V4 and brings you bug fixes and updates that address issues with the initial release of Easify in July 2016, and also new features that you have requested...
What's new in Easify version 4.28?
New features...
New for Easify V4.28 is the ability to pick customers from a list in the Order Details Window in addition to the existing drag and drop method.
We've had a number of you request this feature, and as we are now able to develop Easify much faster than previously possible we have made a start on coding the new features that you have requested.
In Easify 4.28 the View Customers button has been replaced with a Pick Customers button...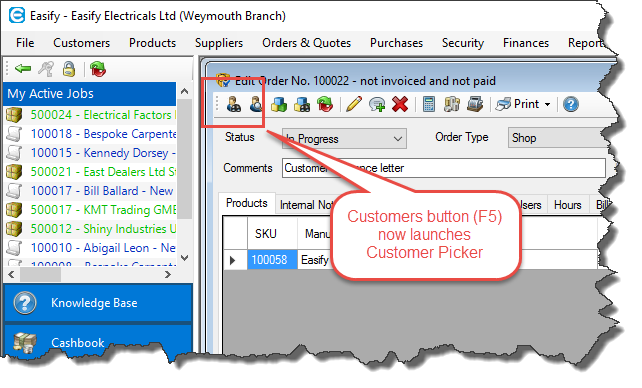 In the customer picker simply start typing the name of the customer you are looking for, select your chosen customer, and click OK or press Enter to add them to the order.
The following issues have been resolved
Implemented Easify Server subscription handling for forthcoming Easify Website Connector subscriptions.
Display issues on some Easify Windows when using non standard display scaling (DPI) on Windows 10.
Problem deleting transfer from the cashbook.
Export all transactions - blank payments showing as £0.00 instead of blank.
Export all transactions - some transactions not in correct order.
Export all transactions - Try and overwrite CSV file that is open in another programme, get exception.
Export all transactions - Timeout error.
Setup log file gets cleaned up after setup finishes.
Long company name and description causes Easify server not to start after fresh installation.
Loyalty points could not be used in certain scenarios.
Rounding error on Loyalty Report.
Discount not displayed until order re-loaded.
Cannot modify customer loyalty points via order -> customer edit.
Update subcategory margins/markups when category margin/markup is changed.
New purchase type not showing in default drop down list.
New purchase types are being duplicated.
Try to save purchase types with no purchase type code and get error.
Setup Easify client & server on single computer, move from one network to another, user is told username and password incorrect when logging in.
Subscriptions expire on the day that they renew.
Easify V4 will not launch on a single computer if no network present.
Can't rename an order that has been auto generated by the website for V3.
Add comment to line item get 'Conversion from type 'DBNull' to type 'String' is not valid.' error.
Cannot access a disposed object error on Orders Window.
Title bar 'not invoice and not paid' until billing tab has been selected.
Spurious help button on product picker.
Product picker - incorrect behaviour when no product selected.
Formatting needs correcting on DL envelope in paperwork designer.
Paperwork Designer - Prevent large images being inserted, caused Easify to CTD.
Save paperwork as PDF, if document has multiple pages, all pages are copies of page one.
Esc buttons not working on POs.
Serial no not appearing on POS.
Edit POS Customer, confirm change, filtered customer list doesn't return to customer EU just edited.
Copy a purchase, remove the description try to save an get error.
Click paid checkbox on unsaved purchase, CTD.
Enter an invalid entry in the Order no column on a purchase and are locked out of doing anything.
Purchase aren't sorting by price.
Double click a purchase that has no products and get non user friendly error.
Products Needed for Stock Report, In Stock change to Free Stock.
Sales chart line weirdness.
Weirdness with the supplier window after the DMS has been switched on.
Many thanks to everyone that has helped us by submitting bug reports. Please don't hesitate to let us know if you encounter problems ASAP and we will get them resolved as quickly as we can.
FAQs
Do I need to upgrade from V3 to V4 before upgrading? No, if you wish to upgrade from Easify V3 you can go straight from Easify V3 to V4.28 by running the Easify V4 installer.
I am an Easify V4 user, are there any technical reasons that would prevent me upgrading to V4.28? No, anyone who is using Easify V4 will benefit from the update.
You can download the latest version of Easify Version 4 here...