Finance - Payment Plans Overview
Payment Plans are an optional feature which can be set up on orders to allow you to invoice the order in several instalments. Equally you can pay for a purchase in several instalments too.
Watch the video guide below, or continue reading further down this page for more information.
Example
A fictitious company, Easify Electricals, supplies complete surround sound systems to customers as well as offering an accompanying home setup service. A typical order for one of their customer's may look like this: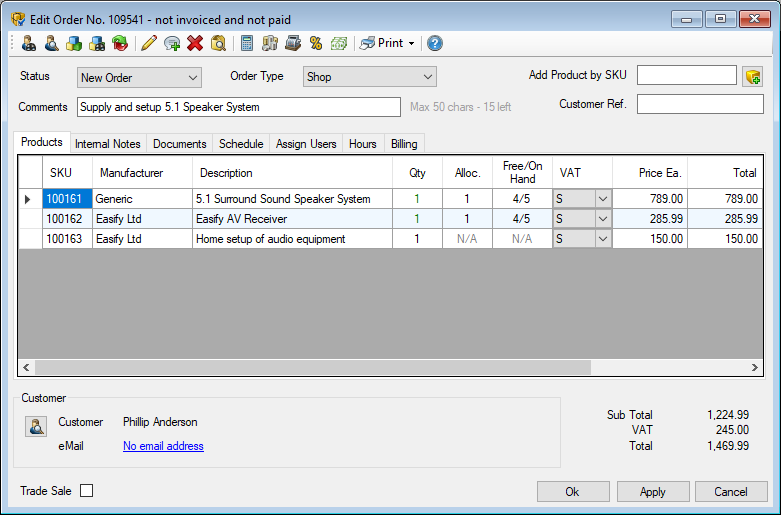 If the company agrees payment terms with the customer; so that the customer pays half the order total as a deposit and the rest upon completion of the setup, then a payment plan can be used to keep track of payments.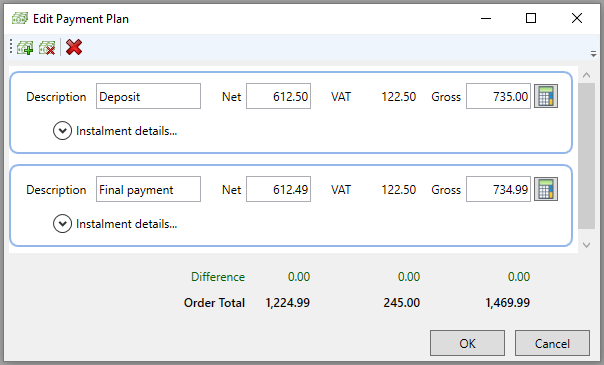 The main advantages of setting up a payment plan are:
You can agree a payment plan with your customer before they agree to the work – helping both them and you with your cashflow.
It is ideal for larger orders, as you receive part payments as you deliver certain aspects of the order.
Easify can calculate payment amounts automatically – based on percentages or you can type in an amount of each instalment.
You can have as many instalments as you wish and separate invoices can be created for each instalment on the payment plan.
Easify keeps track of payments as they are made against the order.
As Easify keeps a track of which instalments have been invoiced and the payment you've received, if an order spans over several VAT quarters, your VAT return will only account for any instalments that have been invoiced (or if you use Cash VAT accounting, any payments you've received) in that VAT quarter.
Payment Plans are also applicable to purchase orders, not just customer orders.
Continue on to Creating a Payment Plan.