Logging in to Easify - On the Cloud
Please note: These instructions relate to the Cloud version of Easify or if you log into Easify using an Easify Pro Subscription.
These instructions do not apply to the On-Premises version of Easify, unless you log into it using a subscription. If you are using the On-Premises version, you can follow the instructions here.
Overview
You will need a valid Easify Pro User Subscription to be able to log into Easify Cloud (or be using Easify during the Free 30 day trial period).
Subscriptions can be purchased monthly or if you choose one of our pre-pay options you can make substantial savings.
Click here for more information about how to purchase an Easify Pro User Subscription...
You will also need to ensure that the subscription is assigned to your Company.
Click here for more information about how to assign users to your company...
Logging in
Before you can use Easify Pro you will need to log into it.
NOTE: As you are using a subscription to log into Easify, you need to use the same username and password that you use when logging into the Easify Website. This is because your subscription is associated with your Easify website account. In this case your username will be in the form of an email address.
You will be prompted to login each time you launch Easify.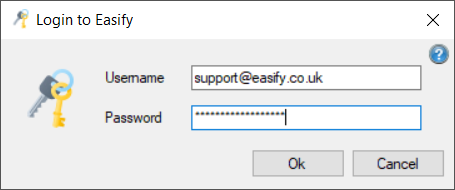 With an Easify subscription you can log into Easify from any PC or laptop that has Easify installed. However you will only be able to log in from one device at a time, so Easify will automatically log you out if you are logged in elsewhere. (Note: you will lose any unsaved changes if you are automatically logged out of another PC).
Simply enter your Easify username (email address) and password and click the Ok button to log in.
You are then ready to start using Easify.
TIP: With a subscription you will not be able to change your password within Easify itself. You will need to log into the Easify website and change your password there. If you forget your password you can click on Home->Login->Forgot Password on our website to reset your password.
If you're not sure whether you're using Easify Cloud or Easify On-Premises click here for more information about Easify Licensing...