Reports Viewer
This help page covers the general features which are common to all the reports accessible from the Reports menu in Easify. The individual reports and the data shown on them, are covered in subsequent articles.
The Reports Viewer was updated in V4.79 so if you're not seeing these features on your version then you will need to upgrade.
The ability to edit the reports can be granted via permissions under Security -> Manage Users. By default users do not have permission to edit these reports.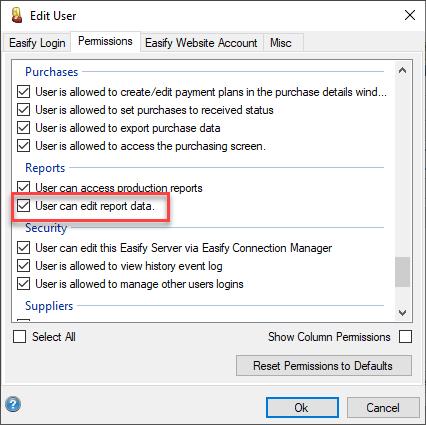 IMPORTANT
You can use the features under the Reports Viewer to format the reports as you wish.
However, at present, any changes are just for this instance of the report.
If you generate the report again, you will need to make your formatting changes again in the Report Viewer. So please make sure you are happy with the report and its contents before formatting.
The new Reports Viewer introduced in V4.79 allows the reports to be run in a floating window which can be resized and moved independently to the rest of Easify Pro. For instance, if you use more than one monitor on your PC, you can move the report viewer to a different monitor to one on which Easify Pro is displayed.
The Reports Viewer includes a Dynamic Toolbar along the top, which changes as you select the different menus...
The toolbar can be unpinned and hidden if preferred by clicking the arrow on the right hand side. This will hide the toolbar until you click on any of the menu items. It will remember this setting the next time you load a report:

If you wish for the toolbar to no longer be hidden, then click on Home, and then click on the pin icon:

As you use the menus on the Dynamic Toolbar, the functions you can access will dynamically change too:
Under the Home menu, you'll find the formatting tools, such as Font size, format and colour, Format Painter, Paragraph Layout and Quick Styles.

You'll also find the Print and Save functions where you can save to Word, PDF, HTML, Rich or Plain Text.
Under the Insert menu, you can add Tables, Pictures, Headers, Footers and Hyperlinks etc to your report.
Under the Page Layout menu you can set the Page Size, Margins, Orientation etc for your report.
Under the References menu you can add a Table of Contents, Foot and Endnotes and Captions etc for your report.
Under the Review menu you can run the Spell Checker, Add Comments and Protection etc for your report.
Under the View menu you can choose whether to view the report as one long continuous page (Web Layout), or with Page Breaks (Print Layout).
You can also access this feature using the shortcut buttons at the bottom of the report, where there is a Zoom function too.