Installing your Easify License Key
Until you enter a valid Easify license key, every time you launch Easify it will ask you if you wish to install a license or continue with your evaluation:

If you are using trailing Easify during the 30 day Free Trial period click the Continue Evaluation button.
However if you have purchased Easify and wish to enter your license details, click on Install License. This will launch the Install License window...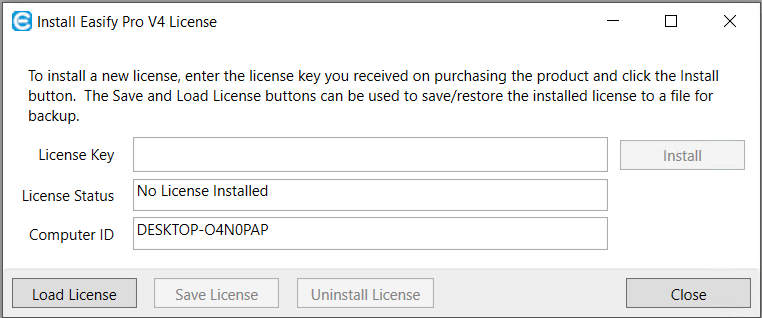 Enter your valid Easify license key and click Install. If the key is valid, it will just be accepted, and nothing will change on this window.
You shouldn't need to do this again unless you perform a Windows reinstall or change the hard drive on your PC or laptop.
You can then close this window.
You are now ready to start using Easify...
Click here for instructions regarding how to login...
Click here for instructions regarding how to get started using Easify.
Things to note
NOTE
Depending on the settings on your computer, if you get the above error when installing your license key, close Easify and
Right Click
on the Easify icon and choose
Run as administrator.
This will allow you to enter your license key into Easify. You should then just be able to launch Easify as normal after this.
Your license keys are included on the Order Confirmation that we email to you when you place your order for Easify. We recommend keeping this in a safe place, and if you have more than one license, keep a log of which license you have installed on which PC or laptop.
It's also worth noting, there are two 'elements' to Easify - Easify Server where all your data is stored, and Easify Pro, the client software which allows you to access this data. You will have different license keys for the Easify Server and for each Easify Pro Client you have purchased.